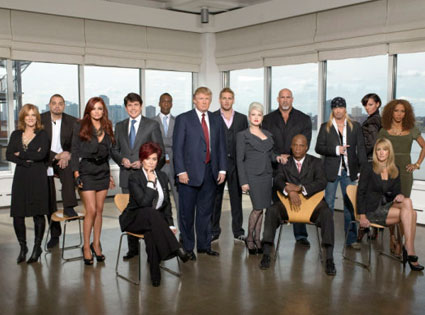 There's nothing more surprising than seeing people you thought were utter douchebags turn out to be decent and down to earth human beings.

Yes, I'm talking about Bret Michaels on Celebrity Apprentice.

I knew him from that 80s rock band that I hadn't ever listened to. He also had that stupid Rock of Love show on VH1 or wherever it was. Yes, and there was also that sex tape too.

Honestly, him being a good guy, I didn't see that coming at all.

Just goes to show how easily we judge people in our everyday lives.

But anyway, I'm personally rooting for him, Bill Goldberg, Curtis Stone and Maria Kanellis. (I had no idea she was so smart too)

I just hope that this season the producers and The Donald are smarter and give everyone an equal chance of winning.

Last season was a complete travesty, when Trump fired Tom "I cannot believe he's a good guy" Green and kept Dennis Rodman, even though 1) he was drunk 2) didn't even show up at the task and 3) wanted to leave the show.

The producers should pay attention to the old adage "give people what they want, not what they expect". We are tired of the 'ratings!, ratings!' trainwrecks.

It pays off to have likable people on tv.

That's why a "boring" show like The Biggest Loser is a hit too.