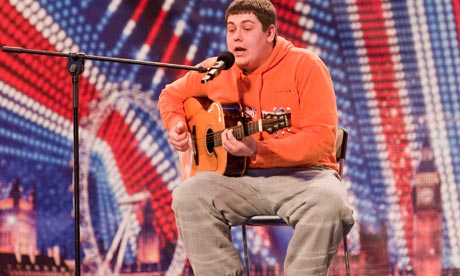 Hooray! First auditions of this year's Britain's Got Talent aired on Saturday. I was so happy because it has been one of my very favorite shows on tv.
So many good acts have been on this show in the last four years: Paul Potts, Susan Boyle, Diversity, Spellbound, Stavros Flatley, Bessie Cursons, Andrew Johnston, Signature etc.
I love the show for at least two reasons. First, because this show is about people with talent. Second, I like it because Brits really know how to pull these things off.
I know that some people loath this show because it's supposedly 'cynical' and 'manipulative' and things like that...
But for me Britain's Got Talent is not about these things. For me it's about the human experience. It's about capturing and sharing these precious moments in life with the audience. It lets me feel and that's what makes it real.
At the same time when I'm saying that I like the British version, I'm not saying that I like the U.S version of the show. Because I really don't.
In theory it's the same show, but in reality it is not. It's more forced and fake. You get a feeling that America's Got Talent is a lot more about money and fame and stuff that in the end isn't really important.
Take a look at this one: no story, rushed, unfocused, just painful:
http://www.youtube.com/watch?v=K6-G1kdStNA&feature=related
Compare it to last week's Britain's Got Talent:
http://www.youtube.com/watch?v=YB98dcWkQqA&feature=channel_video_title
The difference, oh the difference!
Perhaps it has something do with the, uhh, dare I say, fact, that Americans are more superficial and shallow than the Britons. Because the difference between these two shows is simply astonishing.
Anyway, can't wait till Saturday and the 2nd week of Britain's Got Talent.