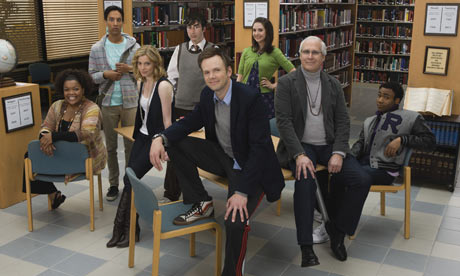 I don't know if there's a better example of cluelessness in the screenwriting "business" than the following one.
Not naming any names but there was a discussion about what tv shows are the hottest for a "spec" writer. A guy supposedly in-the-know said that those are Modern Family, Community and Parks & Recreation.
Obviously Modern Family is one. Emmy award for best comedy series and also a pretty big ratings hit. So no problems there.
But what on earth are Community and Parks & Recreation doing on this list?
When you think about writing a spec for an existing show, you have to think about three different things:
1) Is the show a ratings hit?
2) Does the show get awards or at least nominations?
3) Do showrunners like this particular tv-series?
So "Community" is the big thing right now? Online raves about it. Film school enthusiasts can't seem to get enough of the show.
Here's the reality check:
1) Community gets horrible ratings.
2) It doesn't win any awards or even get nominations.
3) Showrunners do not apparently think much of it.
One that I know called it simply "a tired show".
Steven Levitan, a showrunner for Modern Family said that Community "has some strong dialogue", which in reality means that it doesn't have character or storytelling strengths. So I guess it's not that good.
But the "online" loves it. And the film school people...
As for Parks & Recreation, it didn't get ratings, any awards or nominations and in fact, wasn't even on. Yet it's a "hot" show.
Somebody is simply not telling the truth here.
The hot shows to spec are still those that get awards or the audience. These are shows like 30 Rock, The Big Bang Theory, Modern Family... perhaps even 2 1/2 Men.
Oh, and South Park. Let's not forget that one.